Social Media – Statistics Shape Success!
Know Your Social Media Statistics Or Fail!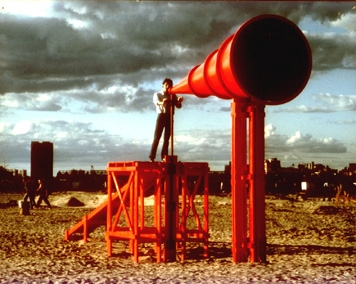 DON'T YOU WANT TO BE CERTAIN YOU ARE HEARD?
Using Social Media to generate free (& paid) traffic to webpages has been the focus of marketing masters for several years. Social Media has exploded into the forefront of the best sources for non-paid traffic, and from all indications, it's here to stay.
If you haven't read the precursor to this article as yet, you may want to go read it. It's called, Viral Marketing – How To Create Viral Articles, & the companion article is Combining Guerrilla Marketing With Social Media. If you've read the first article, you are familiar with the statistical tracking form below.
What Is Social Media? Enter the search term, "Social Media News", & Social Media Statistics will show you that social media today is where it's at for webmasters who are focused on generating large volumes of free traffic to their webpages.
This article is focused on using the social media statistics that are relevant to your individual articles to help you track the effectivenes of what you are doing. Below, is the actual case study of an article I posted 7/24/13 called Mahjong Solitaire – Mahjong Titans – How To Get Super High Scores.
The primary FREE tools that I use in tracking the effectiveness of my Social Media Marketing Campaign is Google Analytics & Webmaster tools. I also follow each of the websites where I promote that article.
I list all dates when, and all the places where, the URL is shared. This allows me to see what affect, if any, that action had on the visits to that article. Let's take a look at the case study.
I am going to break into the Tracking Form below (with notes) to explain what is taking place & how it can benefit you.
Mahjong Solitaire Article Tracking
Key word search results:
Mahjong – US 823,00, Low competition 5%
Mahjong Solitaire – US 22,200, low 14%
Mahjong Titans – US 14,800, low 23%
860,000 combined monthly (USA) searches on three KW's that are ALL Low Competition. I used Mahjong Solitaire for my focus KW.
Posted on http://127.0.0.1/donhall2nd/ site and pinged on 7/24/13
Added to Webmaster tools tracking 7/25/13
Title: Mahjong Solitaire – Mahjong Titans – How To Get Super High Scores
URL: http://127.0.0.1/donhall2nd/how-to/mahjong-solitaire-mahjong-titans-how-to-get-super-high-scores
Tags: mahjong,mahjong solitaire,mahjong titans
SEO Description:
How To Get Super High Mahjong Solitaire Scores. Mahjong Titans, the electronic version of Mahjong Solitaire is the focus, & scores of 1,000 – 1,400 + are common once you know these scoring facts.
As you can see above, I included;
The keyword research results

What site I posted it on & the date

When it was added to Webmaster tools

The title & (live) URL link

The tags & SEO description
This, and everything below, allows me to see everything at a glance and acts as a quick reference page later on whenever I need any information about this article.
Article Promo Check List.
Post article – DONE
Ping it – DONE
Add it to Webmaster Tools site list individually – DONE
Share on

Twiter

, Digg, G+, Facebook, Linkedin, Stumble – DONE

Repurpose

Post it to at least two Doc sites – DONE
If Video is made, post it to

youtube

& other sites / Promote it on Facebook. – DONE
Comment on forums & backlink/minimum 3-5 –Did eleven w/ 10 live links – DONE
Social Media Notification Dates:
Facebook 7/26/13
Twitter 7/26/13
Google + 7/26/13
Linkedin 7/26/13
Digg 7/26/13
Stumbleupon.com 7/26/13
Pintrest 7/26/13
Article posted on Doc sites:
Date posted: On Scribd.com 7/27/13
Site/URL: http://www.scribd.com/doc/156537399/Mahjong-Titans-Scoring-Tile-Values
Date posted: On Slideshare.com 7/27/13
Site/URL: http://www.slideshare.net/dchale5050/mahjong-titans-scoring-tile-values
Video posted on Video sites:
Date posted: On youtube 7/26/13 Pinged 7/29
Site/URL: http://www.youtube.com/watch?feature=player_embedded&v=X65O324hJBE&t=0
Date posted:
Site/URL:
Date posted:
Site/URL:
I usually hit all the Social Media buttons (right there on the page next to the article) immediately after I post the article, but in this case, I didn't get the video done for a couple of days and wanted to wait for it.
If you aren't familiar with "Re-purpose Posting" of your articles to document storage sites, you can read the article about that called, INCREASE BLOG TRAFFIC – THE TRAFFIC SNIPER. It explains how they can help to increase traffic to your site.
Forums with backlinks:

7 of 11 sites Banned me because the article has links to a squeeze page. 2 Funny!
Date posted: 7/25/13 Live backlink PR8 Account Banned
URL www.gamespot.com/forums/topic/29427527/mahjong-titans—mahjong-solitaire—how-to-get-super-high-scores Pinged 7/26/13
Date posted: 7/25/13 Live Backlink PR6 Post Deleted/Account still active
URL: www.tomshardware.com/forum/id-1746390/trouble-learning-score-windows-mahjong-titans.html Pinged 7/26/13
Date posted: 7/25/13 – 8/4/13 twenty people viewed the comment & link
http://forums.bigfishgames.com/ PR This site doesn't allow not live links.
Date posted: 7/25/13 Live Backlink PR6
http://www.rockpapershotgun.com/forums/ Posted on Thread: What are you playing at the moment?
Comments on the site quickly get lost in the shuffle but they don't care what you post. No tracking
Date posted: 7/25/13 Live Backlink PR7 Account Banned
URL: www.neoseeker.com/forums/56443/t1887422-has-anyone-had-trouble-figuring-out-how-mahjong-titans-scores/ Pinged 7/26/13
Date posted: 7/25/13 Account Banned
URL: www.avforums.com/forums/pc-gaming/1797483-mahjong-solitaire-mahjong-titans-getting-high-scores.html#post19361588 Pinged 7/26/13
Date posted: 7/25/13 Account Banned
URL: www.dslreports.com/forum/pcgames
ROUND TWO*****************************************************************
Date posted: 8/4/13 Live Backlink PR6
URL: http://rog.asus.com/forum/showthread.php?35618-Mahjong-Solitaire-Mahjong-Titans-Getting-High-Scores&p=292546#post292546 AGTR 1.4k
Date posted: 8/4/13 Live Backlink PR6 Account Banned
URL: 

As you can see above, I quickly found out what GAME FORUMS will ban you for linking to any article that has "outbound links" to a landing/squeeze page of any kind.
BUT, If I hadn't kept these records and gone back to check results, I'd have no clue what happened. I'd also be thinking that my job on this article was complete, not knowing that most of the links I'd placed were cancelled.
You will also get banned from the Doc Site Slideshare.com for the same reason, but Scribd.com has no problem with it. My opinion on getting banned can be summed up by the following quote.
"You'll always miss one hundred percent of the shots you do not take." – Wayne Gretzky
I ended up with three forums out of 11 that didn't care. I'll have that record right here on this page if I ever decide to do something involving another electronic game!
I copy my daily screen shots from Google Analitics, Webmaster Tools & the doc site reports here:
(if you don't have the FREE Jing capture tool for grabbing screen shots and making 5 minute videos, you can get it HERE) 
Summary:
The article got 500 page impressions in the first 14 days. Keep in mind that it's on a brand new site with a ZERO Page Rank. However, Webmaster lumps together ALL impressions, so you need to check your Google Anylitics to see the actual unique visits to that article. (I show that below the graphs)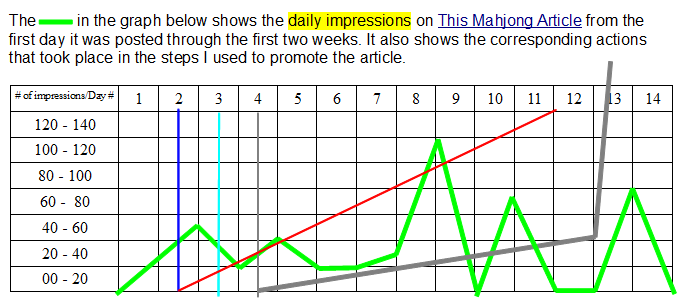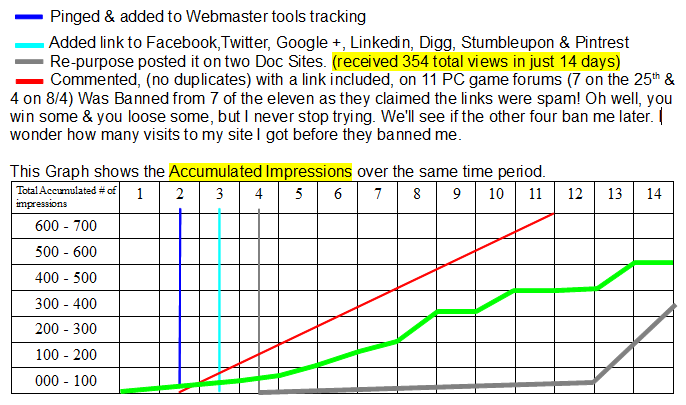 Just look at what happened to the gray line all of a sudden after 12 days! Suddenly, readers on the Doc Sites, where I "re-purpose posted" the article, discovered it! It was over the weekend, so I suppose it had something to do with having a little free time.

Above is a shot of one of the many items that Google Analytics gives us for free. On the left is the extension URL for the article, next is Total page views (including revisits from the same user), next is the unique visits, and those are what matters.

Think about it!
In just 14 days I got 74 UNIQUE VIEWS on one article, on a brand new website that has ZERO page rank! I wonder how many more I'll get for that article during the next 50 weeks this year.
Bounce Rate: What I love about that statistic is that it shows 75% of the visitors left the page without clicking on my add, & that means that 25% did click through on my ad link! That's 18 new potential customers, in just two weeks, from just one article.
Posting unique articles and promoting them in this manner will bringing free traffic to ANY website. It's up to you to sell them on whatever it is you are promoting but at least they came to take a look.
Now, look what happens when you produced just three articles a week that get the same response!
3 articles X 50 weeks = 150 articles…
150 articles X 18 clicks on your add = 2,700 potential customers.
I Just Made $50 GRAND!
Check it out!
The main product I sell has a potential of $5,000 (net profit) based upon upgrades my customers can opt into. My average conversion rate is a low 2% of those 2,700, which is 54 new customers. 18% (10 people) end up getting the full package. (10 X $5k = $50k)
How much money could you make based upon your average sale per customer and your conversion rate per visitor? Keep in mind that we're talking about the traffic from JUST THE FIRST 2 weeks from those 150 articles!
When you consider how many more people are going to come to your website throughout the rest of the year to view those articles, you begin to see the power of working this system relentlessly every day of every week, year after year.
If the products you are promoting are not giving you the kind of returns you see in the above example, then watch this video, and join my team of entrepreneurs & educators. Help me make a difference in your income potential. Follow this link.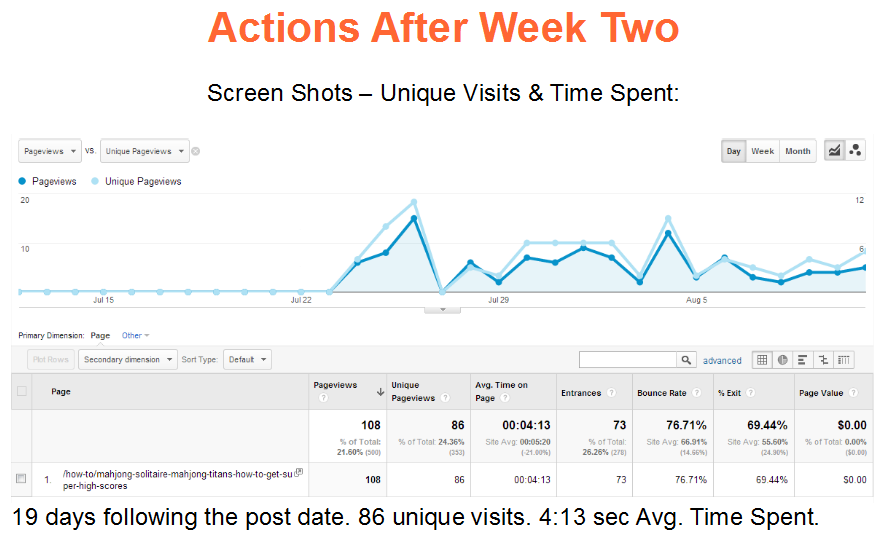 3 Week Totals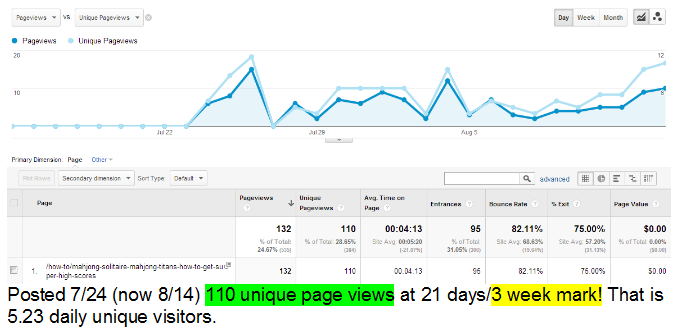 Just think
100 articles getting the same results = 523 new people visiting your site every day!
If this continues throughout the year this article will have 1,911 unique visits logging 135 hrs on my site! Not bad for just one article, but now I need two or three hundred more doing the same thing!
Now look at what happened on the two Document Sites that I posted the Mahjong article.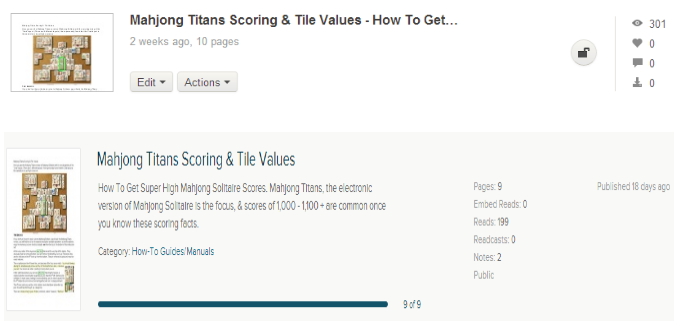 In under 2 weeks the article was read exactly 500 times. How many of those people followed the link to my website? Made the "Popular" front page of Slideshare.net "How To" Category 8/15/13.
You may also be interested in what this very article you are reading has done in less than a week.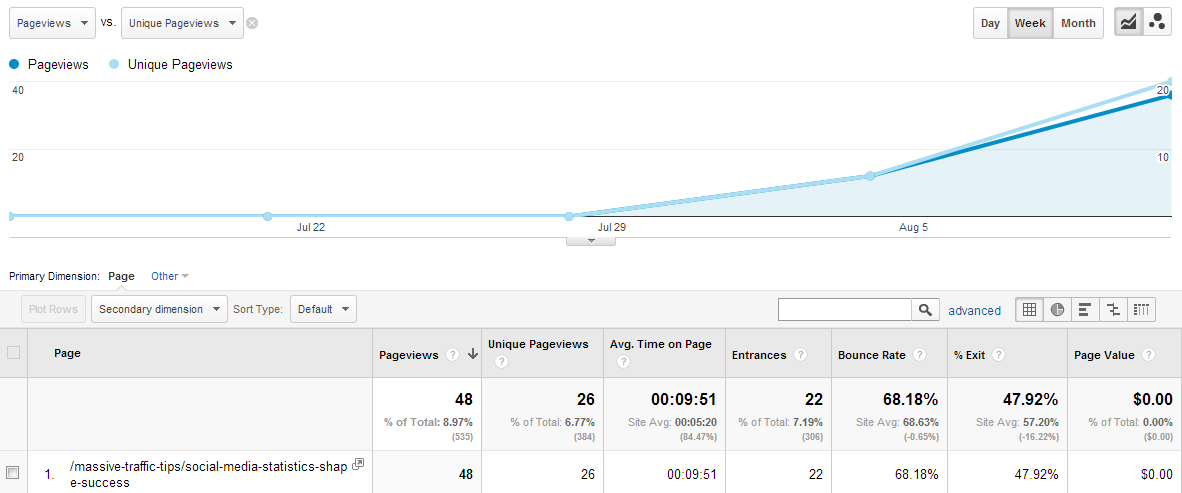 Published 8/8/13, (screen shot ends 8/14) the stats show 6 days progress. This shows 48 total visits with 26 of them unique (4.3 UV/Day). That means people are coming back to see how well the article is progressing.
I have done absolutely no Promo work in Forums or Q&A sites as yet, and so ths is just after completing the first part of that same check list that I used on the Mahjong Titans article above.
Now it's time to go answer some questions about Mahjong Titans on Q&A sites and link back to the article. We'll see how that affects the averages.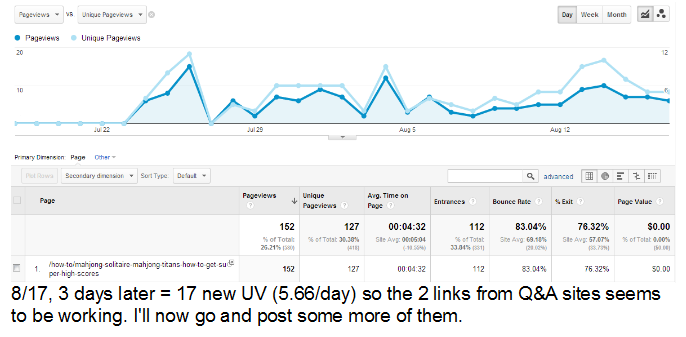 Adding three more links from Q&A sites & that may be what brought me those 10 Unique Visitors yesterday.
8/19 – 8/28/13, saw an increase of 36 UV in 9 days. (4/day) so we are still averaging better than 1400/year on the article.